We are known around the world as the first choice for Fluorogold Slide Plates as well as our many different types of Bearing Pads.  We are quickly gaining a reputation as a reliable source of embed plates and other fabricated structural components.
All construction projects involve scheduling multiple fabricators, suppliers, and contractors to have the right parts delivered and installed at the right place and time.  We often help with this by providing embed plates along with our slide plates and bearing pads.  Since the embeds are where our bearings usually end up, it makes sense to get them all from one source.  This simplifies coordination for delivery, which can be a game-changer when embeds are required weeks or months before structural steel is erected.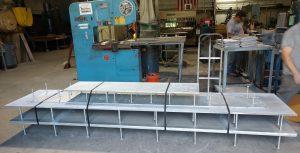 Embed plates fabricated by GRM Custom Products, galvanized and ready for shipment to the job site.
Whether you need to free up your own shop's schedule, or want the simplicity of a packaged Slide Plate/Embed purchase, GRM Custom Products has the fabrication skill and shop capacity to help get the job done.