GRM Custom Products is pleased to announce the purchase of Diamond Composite Structures.
GRM Custom Products has a history of providing superior products and services for the Oil & Gas, Buildings, Industrial, Power and Civil industries. We are truly excited about this acquisition and our expansion into Composites Manufacturing!
Vince Pena has worked in the FRP industry for over 35 years and joins the GRM team as the perfect person to help us grow the Composite product line. Vince can be reached at sales@grmcp.com and he is ready to lend his experience to your project.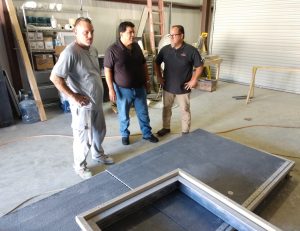 Vince (center) and our production staff discussing a Composite Custom Fabrication.
We have also updated our website to showcase our new composite manufacturing capabilities.  Please take a moment to visit and explore the new information available on both our Bearings and Composites product lines.